Blog Posts
The return of Bidens alba
October 11, 2018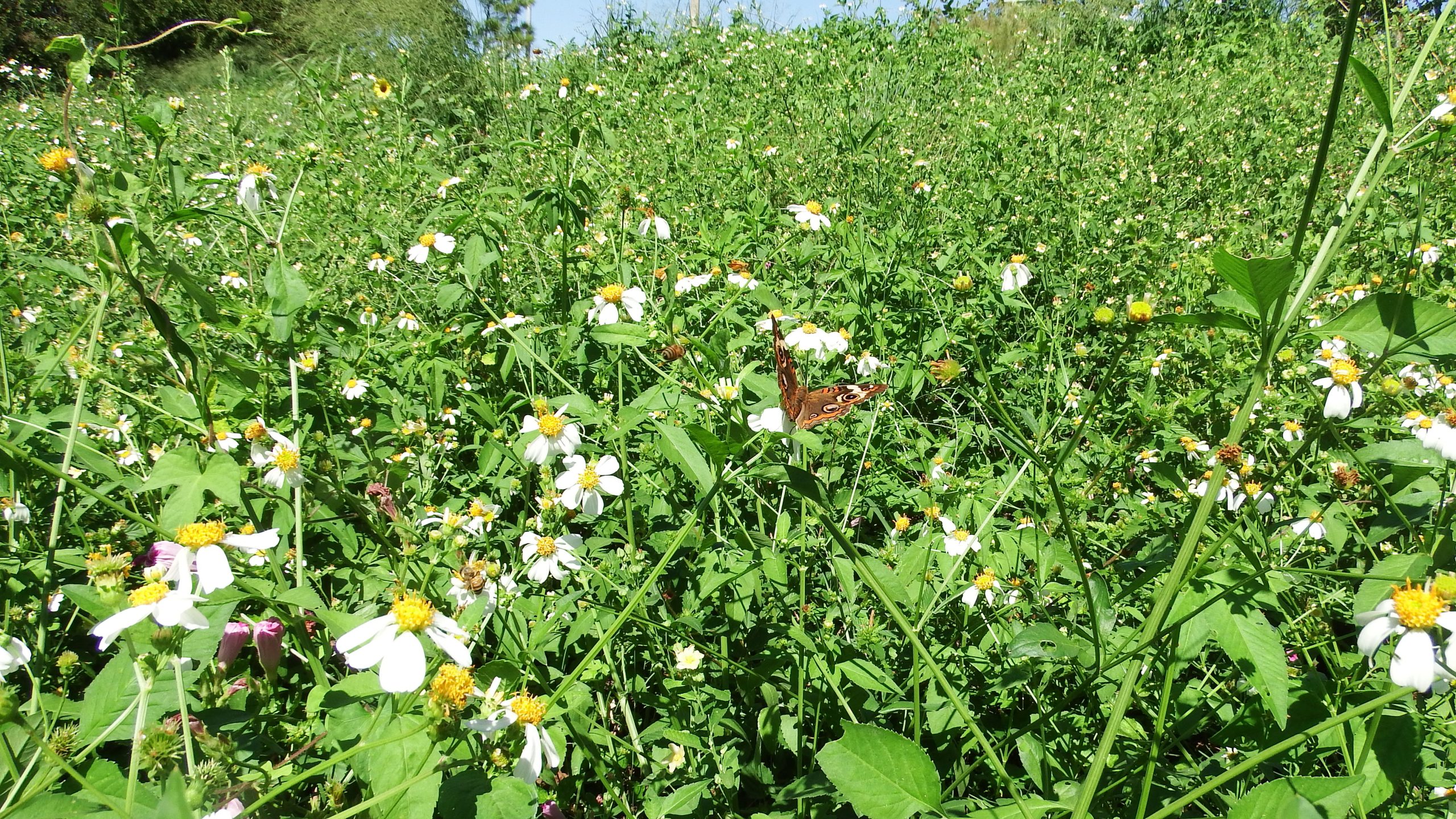 When I was contemplating this blog, I knew there were a few topics that I would cover early and possibly often. One of the first was any lasting effect Harvey might have on the ecosystem of the Park. Another was one of my favorite flowers, Bidens alba. 
Funny thing – topic A, seems to have had an effect on topic B. 
Bidens alba was so diminished within the park this year that I worried about all the nectar drinkers that depend on it. Usually, you will have huge stands of Bidens all summer long. This year, all we had were small patches. Until now.
Bidens alba is once again filling the park and providing terrific opportunities to watch pollinators at work.
I don't have an authoritative explanation about why it took so long for Bidens to get going, but I have an idea. Bidens alba is an annual plant, meaning it blooms one season and then dies, coming back from seed. Bidens alba is great at spreading seeds. Bidens seeds stick to everything, hitching a ride on whatever passes by. Under normal conditions, this results in an ever-increasing number of Bidens alba in the Park. However, 70,000 tons of silt is not a normal condition. I think that the seed bank (seeds overwintering on the ground) was simply buried. A seed has only so much energy stored inside it. If it is too far underground, even if it sprouts, there isn't enough food available in just the seed to grow through the dirt to sunlight.
This happened not only to Bidens alba, but all the wildflowers in the park. This was a very skimpy year for wildflowers. 
But unlike most Texas natives (which Bidens alba is not), Bidens seeds and blooms pretty much until it gets cold. Contrast this with Bluebonnets, for example, which bloom in the spring, one time. You won't see them again until next spring. 
Relatively few Bidens seeds sprouted in the Park right after Harvey. It was not a normal spring and summer. But this prolific producer of sticky seeds needed only a few months to bounce back. The Park is once again in full bloom!
I urge you to stop and marvel. Go to a really large patch. The smaller patches don't have nearly the activity of the big ones. Within minutes you will see so many bees (both native and honey), butterflies and other insects that you will be blown away.
Long live Bidens alba!
(By the way, all the photos in this blog were taken in about 15 minutes. And what I've published here is only half of what I took. Bidens is that popular with insects.)